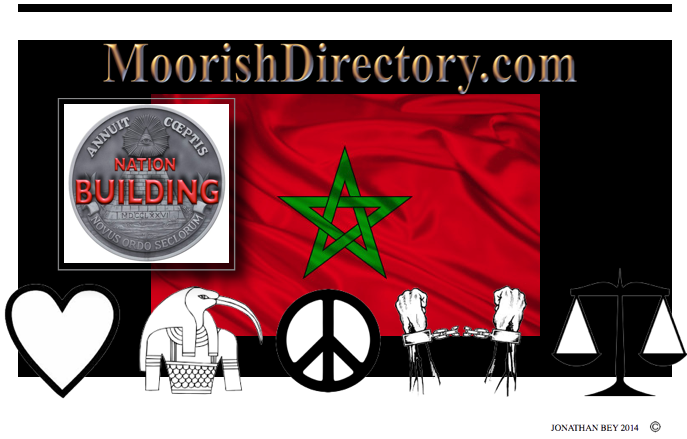 Welcome to our INDEX Page.
Recently it was brought to our attention that certain cell phone users were unable to see the Directory's tab links resource pages which are visible via computers.   With that being the case this page has been erected as a handy navigational device to allow easy access to various location throughout the site.  A further note for cell phone users would be to note the 3 Small HORIZONTAL LINES under Your Moorish Directory Logo at the top of the page when tapped will unfold a full index of all available pages.
For regular desk and/or lap-top computer users, the tabs at the top of each page represent and are connected to each of the tabs corresponding pages and may be accessed by simply clicking on the desired page.
As you may have noted, full access of this site has been recently restricted to Full PLATINUM Member which we highly encourage all visitors to become.  When calculated you will find that it causes less than 20 cent per day to be afforded Full Access to all features of "YOUR" MoorishDirectory.com and that your contributions for FULL ACCESS to all the vast amount of information and otherwise numerous FREE resources such as the Moorish App containing over 30 resources and much, much, more goes directly to the support and up-keep of not only this Hub Site, but is also the financial basis upon which a number of critically important Moorish Website are dependent upon for their existence.  So, in other words: 20 cent well spent!
SIMPLY CLICK THE FOLLOWING
The following are simply highlights:
PLEASE NOTE:
As stated on the Home Page, there is a wealth of information and a large number of videos you will without a doubt benefit from viewing all on our HOME page.  So be sure to spend some time scrolling down and through all of the information contained on our front page, as well as be sure to Download your FREE Moorish App (Containing Over 30 Important Moorish Resources) as well as a FREE Downloadable Copy of "THE KEE" (A Moor's User Guide to TRUE MOORISH SCIENCE, which is the operative and functional aspects of Actual Metaphisics) all available on our HOME PAGE.
.

 .
.
.
.
.
.
.
.
.
.