What's New(s)
September 21, 2017
This morning we received the fantastic news from our Canaanland Brethren on how you can now obtain your Educational "MOORISH GUIDE BUNDLES"!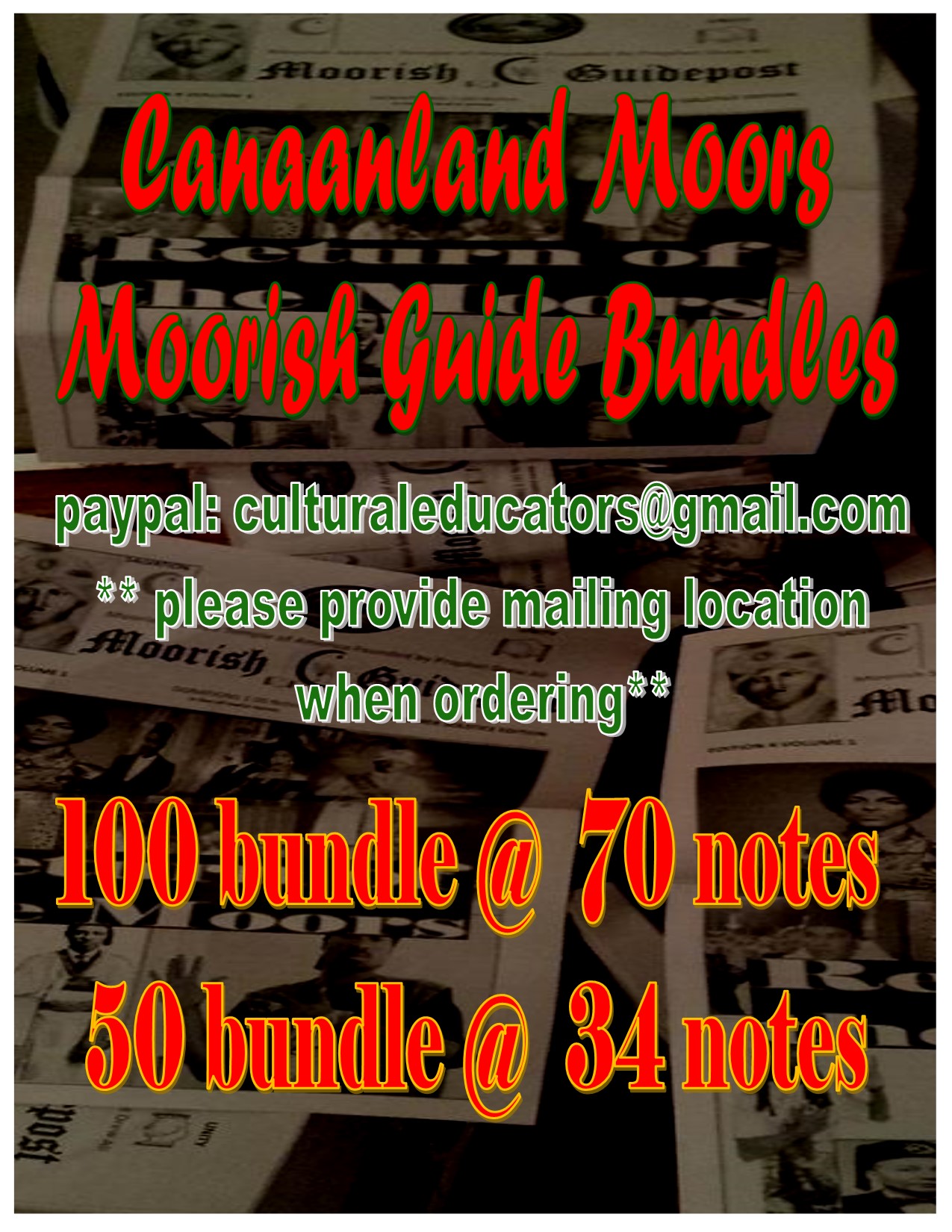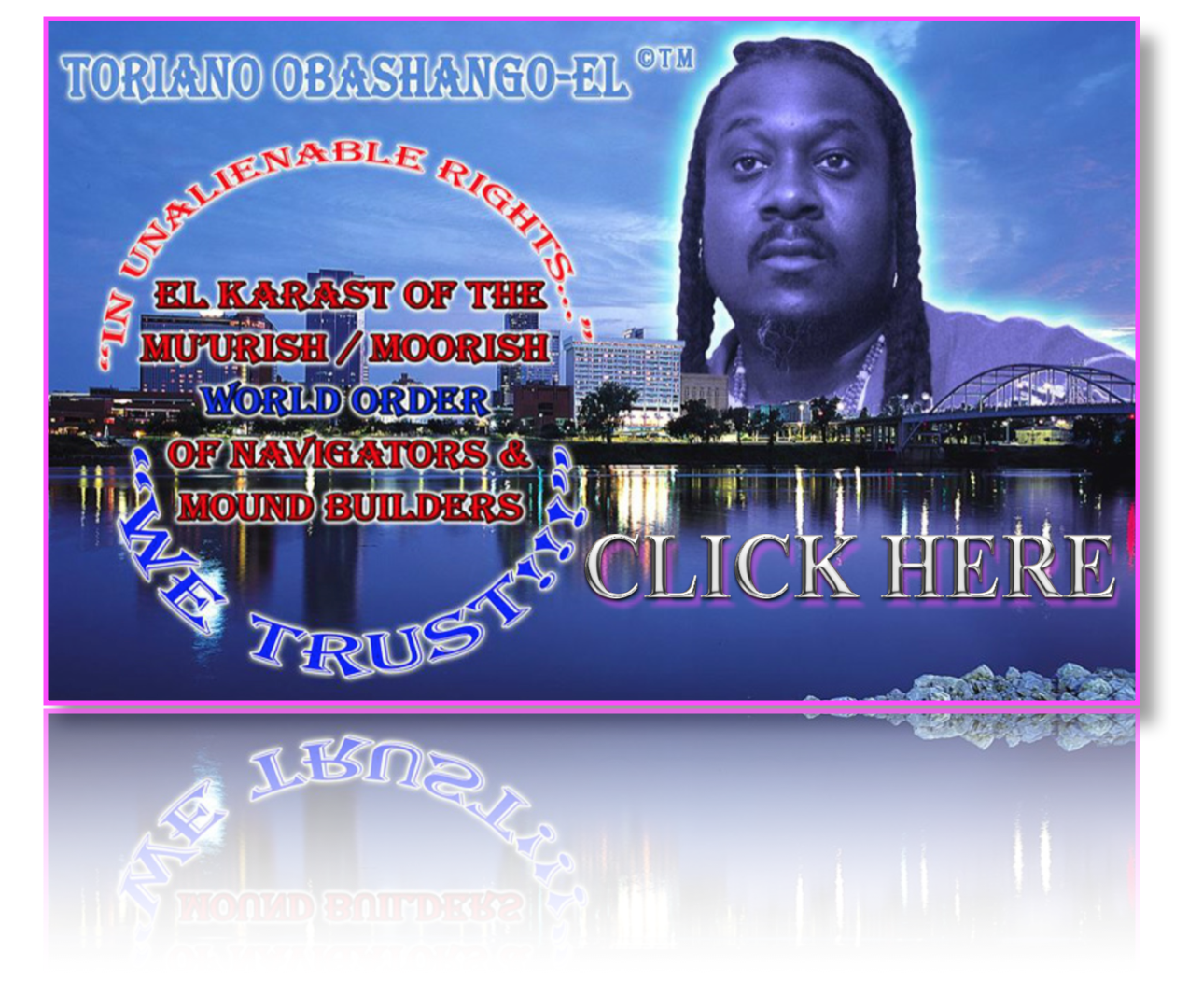 January 2017, Honorable Sheik Lyonel Love El and Sheikess Moalt D. Love El of Moorish Science Temple of America (Mecca/Chicago, Illinois Province) provided "YOUR" MoorishDirectory.com the following for the consideration of all Moors interested in the Affairs and Progressive Activities of The Moorish Science Temple of America.
QUO WARRANTO TO THE REGISTRAR OF TORRENS TITLES 
To: Karen A. Yarbrough, Cook County Recorder of Deeds/Registrar of Torrens Titles
The Moorish Science Temple of America presents this Quo Warranto to challenge the Cook county Recorder of Deeds/Registrar of Torrens Titles authority to:
1. Place an embargo on the Trust/Document # 10105905 BOOK 521 PAGE 579 Aug 1, 1928 @ 2:52 PM by refusing to file any amendments, proclamations, real estate transactions, etc., to said Trust.
2. To slander the Title of Trust/ Document # 10105905 BOOK 521 PAGE 579 Aug 1, 1928 @ 2:52 PM by making erroneous assumptions like "Document # 10105905 is not a trust document".
3. Putting in place certain policies that discriminate against any Moorish filing automatically directing all Moorish customers to the fraud department.
4. The refusal to amend the other part of the Trust which is the Titled Deed in the form of the Circle Seven Holy Koran of the Moorish Science Temple of America (Chapter 47-Egypt the Capital of the Dominion of Africa which would constitute full performance of the Trust.
5. The denial to communicate and to give a proper accounting of all funds gathered that is associated with Document # 10105905 BOOK 521 PAGE 579 Aug 1, 1928 @ 2:52 PM since 1928.
6. Willfully ignore the fact that Trust/ Document # 10105905 BOOK 521 PAGE 579 Aug 1, 1928 @ 2:52 PM is also an abstract of title that entitles Moorish Science Temple of America to be included amongst the list of other body politics like Chicago, Berwyn, Cicero, etc.
7. Display extreme incompetence, negligence, and willful ignorance with regards to the application blocking statutes despite the 805 ILCS Religious Corporation Act, Torrens Titles Registration Act, The Organic State of Illinois Constitution of 1818, The Divine Constitution and By-Laws of the Moorish Science Temple of America, and The Holy Koran of the Moorish Science Temple of America being the direct authorities of the  Document # 10105905 BOOK 521 PAGE 579 Aug 1, 1928 @ 2:52 PM and applicable to the Moorish Science Temple of America as a Body Politic/Religious Society/Trust
.PART 2: IS THE PROPHET NOBLE DREW ALI'S MOORISH SCIENCE TEMPLE OF AMERICA A TRUST? More To Be Revealed….
IS THE PROPHET NOBLE DREW ALI'S MOORISH SCIENCE TEMPLE OF AMERICA A TRUST?
What is the Moorish Science Temple of America?
What is the Moorish Science Temple of America? (See 805 ILCS 110/35.Organization.) A body politic and corporate, a religious society.
"By application of rule of ejusdem generis, words "body politic," in provision of School Code granting school boards power to lease unneeded school property to another school district, municipality or "body politic and corporate," were used in narrow sense and were intended to define other public or municipal corporations, that is, some other municipality, or unit of local government as such terms are defined in local government article of Constitution of 1970; "body politic" as thus defined must possess some attribute of sovereignty and exercise some sovereign power of state, either through constitutional or legislative grant, which it exercises for the common benefit of all within its geographical boundaries." Union County Regional Bd. Of School Trustees for Use and Ben. Of Anna-Jonesboro Community High School Dist. No. 81, Union County v. Union County Historical Society, Inc., App. 5 Dist. 1977, 10 Ill.Dec. 153, 52 Ill.App.3d 458, 367 N.E.2d 541.
. What is Trust/Document # 10105905-Book 521 Page 579 August 1, 1928 @ 2:52PM?
In addition to being an affidavit (A written statement or declaration) it is also considered to be the following:
A. The Holy Koran of the Moorish Science Temple of America Chapter 48. The End of Time and the Fulfilling of the Prophesies Verse 4. The Moorish Science Temple of America is a lawfully chartered and incorporated organization. Any subordinate Temple that desires to receive ak charter; the prophet has them to issue to every state throughout the United States, etc.
B. Black's Law Dictionary Tenth Edition-Charter, 1. An instrument that establishes a body politic or other organization, or that grants rights, liberties, or power to its citizens or members. 3. A governmental act that creates a business or defines a corporate franchise; also, the document evidencing this act. 4. The organic law of an organization; loosely, the highest law of any entity. 5. A governing document granting authority or recognition from a parent organization to a subordinate or a constituent organization, such as a local affiliate or chapter, organized under the parent organization's authority; or the instrument granting such authority or recognition.
B. The Real Estate Dictionary Fourth Edition-Abstract of Title-A compilation of the recorded documents relating to a parcel of land, from which an attorney may give an opinion as to the condition of title. Still in use in some states, but giving way to use of title insurance.
C. The Real Estate Dictionary Fourth Edition-Certificate of Title-In areas where attorneys examine abstracts or chains of title, a written opinion, executed by the examining attorney, stating that title is vested as stated in the abstract.
D. The Real Estate Dictionary Fourth Edition- Torrens Title-A system by which title to land is registered with a registrar of land titles, instead of being recorded.
E. The Real Estate Dictionary Fourth Edition- Trust Instrument- Any writing which creates a trust. May be a will, court order, trust agreement, or similar writing.
(See 805 ILCS 110/43.Power of Sheiks and Society of Property.) The Cook County Recorder of Deeds/Registrar of Torrens Titles website and database provides a feature that allows one to look up trust/document # 10105905-Book 521 Page 579 August 1, 1928 @ 2:52PM which is among other trust that can be located on the website or database utilizing said trust search feature.
The following are the steps to look up the Trust on the website/database:
1. Click on 'Search Records'.
2. Click on 'Search Criteria' which will produce a drop down box.
3. Click on the 'Trust Number Search' option.
4. Type in  '10105905' into the text box and click on search. 
   Correspondence From the Cook County Recorder of Deeds/Registrar of Torrens Titles
Mr. Love El,
I am in receipt of your emails from yesterday, and have received your follow up voicemail regarding the same. I am currently reviewing the emails and am in the process of conducting additional research. I will provide a response to you as soon as I can.
Regards,
James Gleffe
Chief Legal Counsel
Cook County Recorder of Deeds
118 North Clark Street, Room 230
Chicago, Illinois 60602
Clicking the following will provide you access to The Recorder of Deeds/ Registrar of Torrens Titles, Cook County, Illinois (KAREN A. YARBOUFG's) e-mailed response of July 8, 2016 to Sheik Lyonel Love El and Sheikess Moalt D. Love El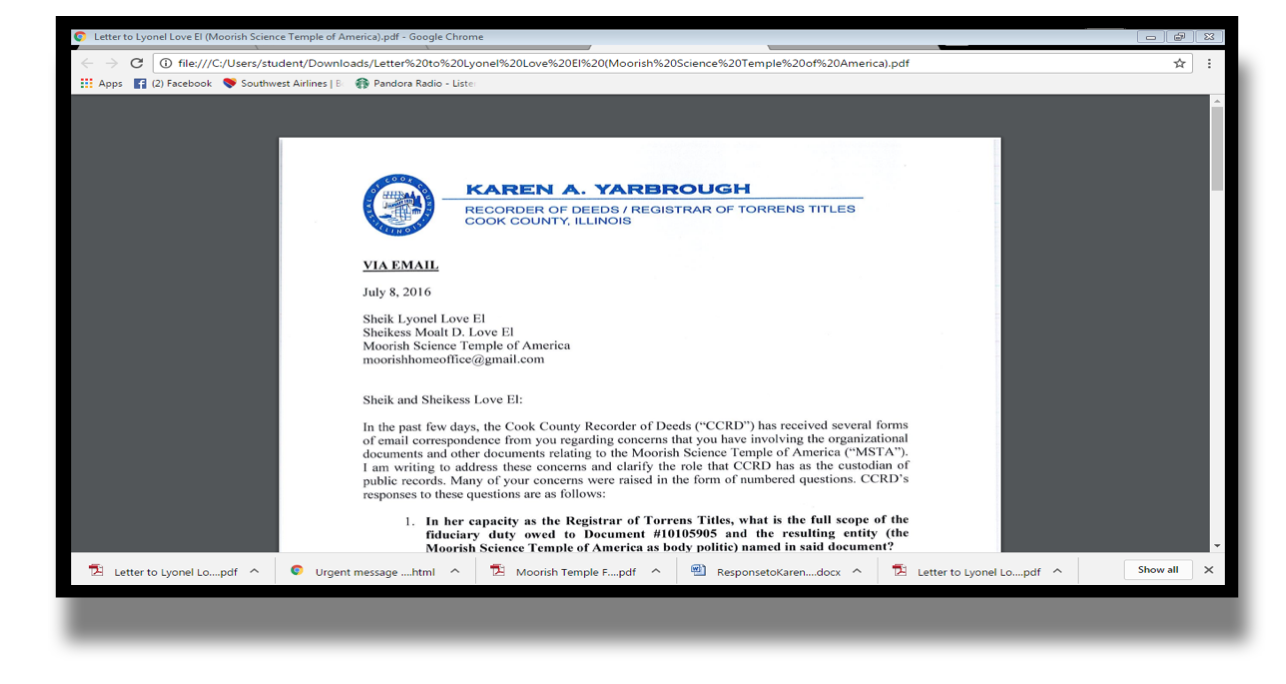 The Official URL for the above public Posting is as follows:
http://moorishdirectory.com/wp-content/uploads/2017/01/Letter-to-Lyonel-Love-El-Moorish-Science-Temple-of-America.pdf

MOORISH LEARNING CENTER OPPORTUNITIES FOR STUDENTS, TEACHERS AND ENTREPRENEURS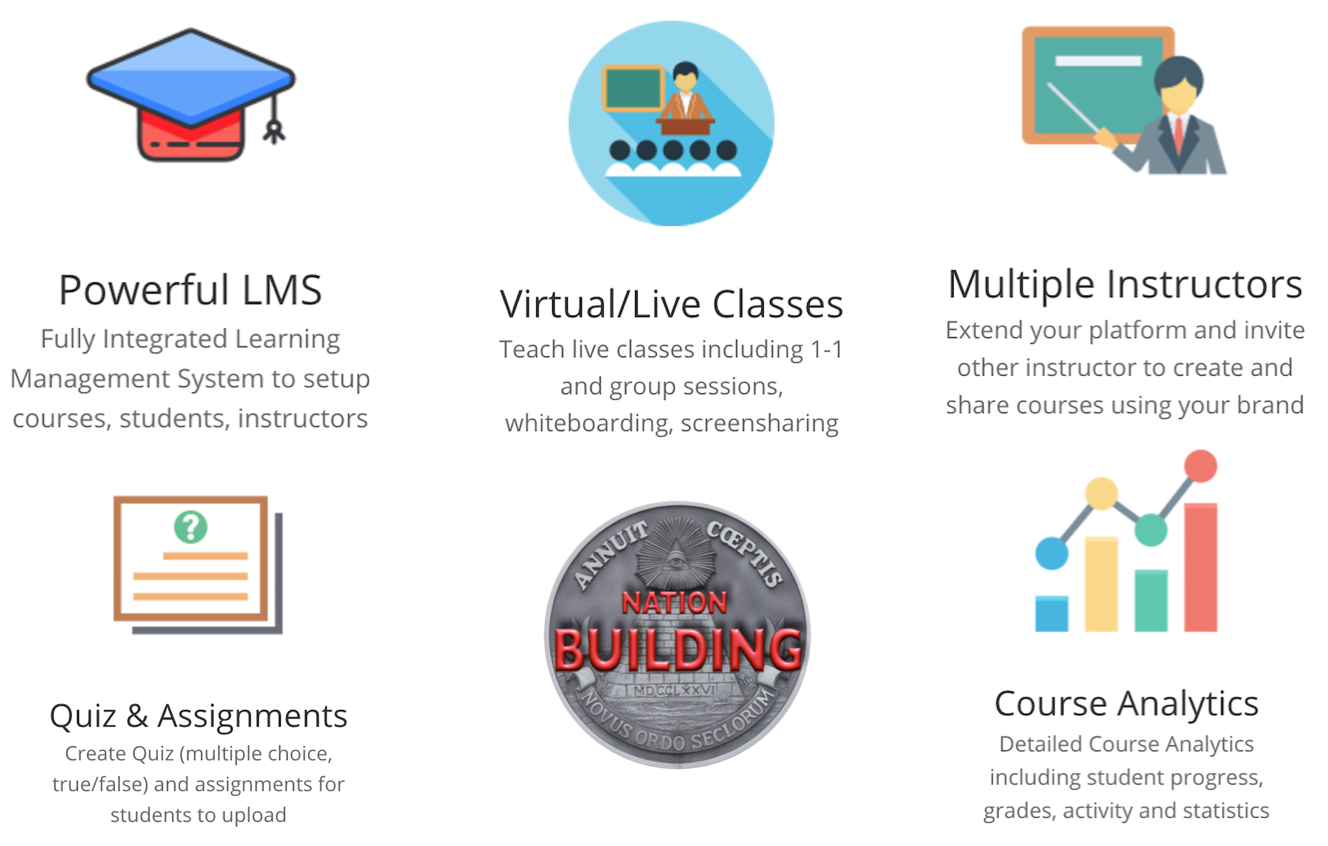 HOW DOSE IT WORK?

Navigate to MoorishLearningCenter.org, find a class or course or full curriculum that you are your interested in attending, sign-up and start your on-line classes, or your One On One as well as Group Tutorial Sessions in your field of interest.

Navigate to MoorishLearningCenter.com, take a few moments to tell us a bit about yourself, your expertise and/or credentials and area of interests as a teacher, pick-out the platforms you would like to utilize and be rest-assured an agent will contact you to complete your application and assist in the seting up of your very own on-line Moorish Learning Center Classroom.

Navigate to MoorishLearningCenter.com, Purchase and set up your new ENTREPENUER'S Learning Center Platform (to rent out to Teachers who wish to have their own affordable virtual on-line classroom environments). Your URL will look something like this: MoorishLearningCenter.com/XYZ  with XYZ representing what ever name you want to use.  That's it.  The following will explain a bit more for interested Entrepreneurs.
After reviewing the following material on the Info Pack's cover,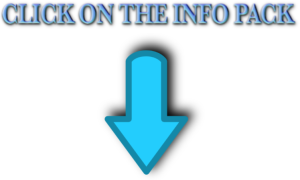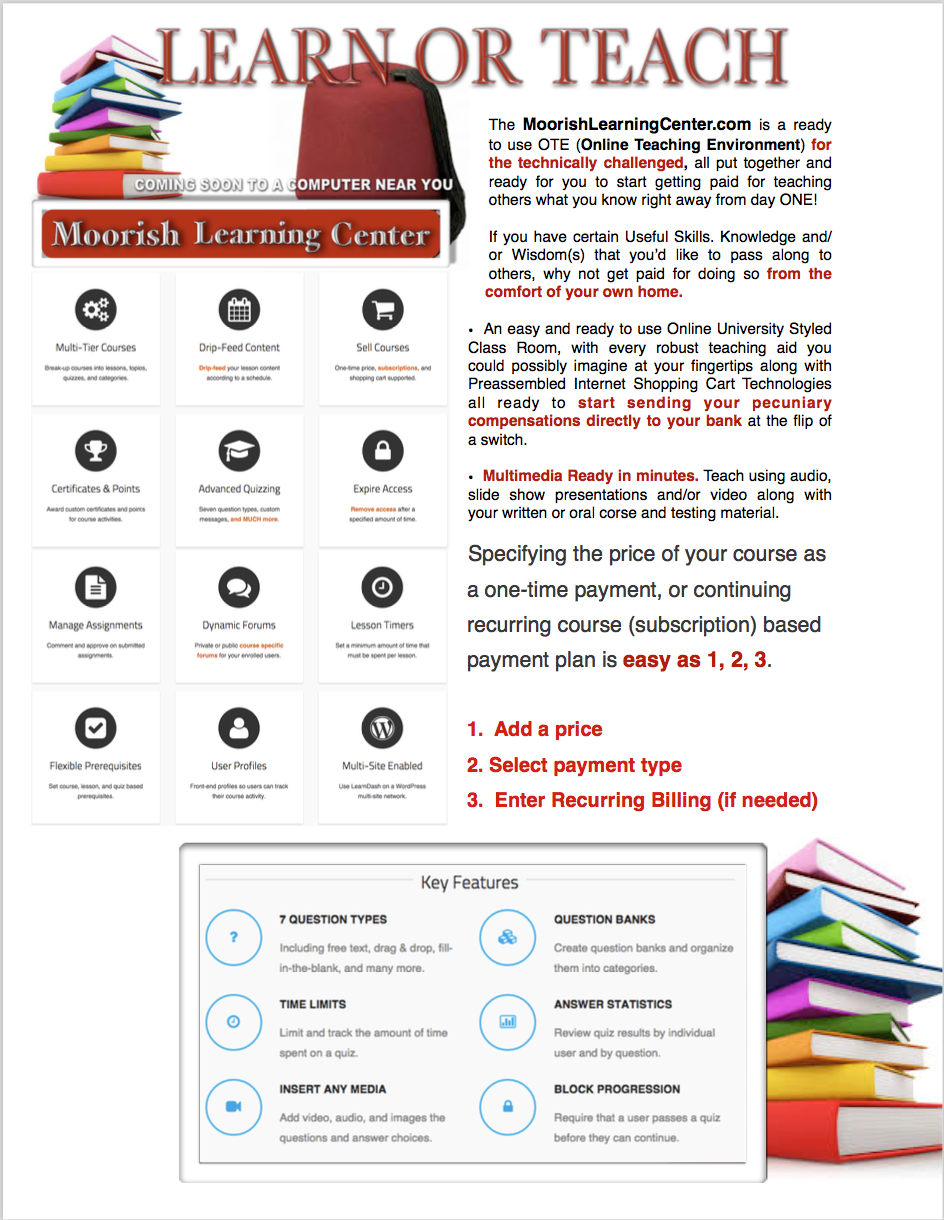 There are two forms of MLC (Moorish Learning Center) opportunities; the .org opportunity for students and teachers and the .com MLC opportunities for Entrepreneurs.  The ".ORG" educational opportunitys are a Free to Inexpensive way for Moors of all ages to learn on-line and via selected physical locations, which offer classes on a wide range of Moorish Studies.  Some of these on-line platforms (which are now currently under construction at MoorishLearningCenter.org ) will also be affiliated with actual physical schools trough the Nation.  But, be it physical or on-lin The Moorish Learning Centers will be available 24-7 for students to take cources in Everything Moorish; from History to Astrology and Healing to all forms of Occult Moorish Science and Higher Physics and Metaphysics.   The ".COM" components for Moorish Entrepreneurs are very powerful Turn Key (ready To Go Out of The Box) LMS (Fully Integrated (On-line University Styled) Learning Management Systems) which  Moorish Entrepreneurs may utilize to serve their Moorish American community's Teachers gain access to affordable on-line classroom teaching platforms, which of course translates to on-line educational resources for your youth and other students in our community interested in taking advantage of new technology learning opportunities.
EDUCATORS AND ALL OTHER ENTREPENUER'S  MAY ALSO
CLICK ON THE FOLLOWING PROPOSAL COVER
TO VIEW AND/OR DOWNLOAD
The Moorish EduAction's Site Development Proposal Pack
This proposal packet will provide you an outline of all of the funtionality mechanisums we can place in to your designer website.  You pick out what you want and we'll create it for you.
IT'S THAT SIMPLE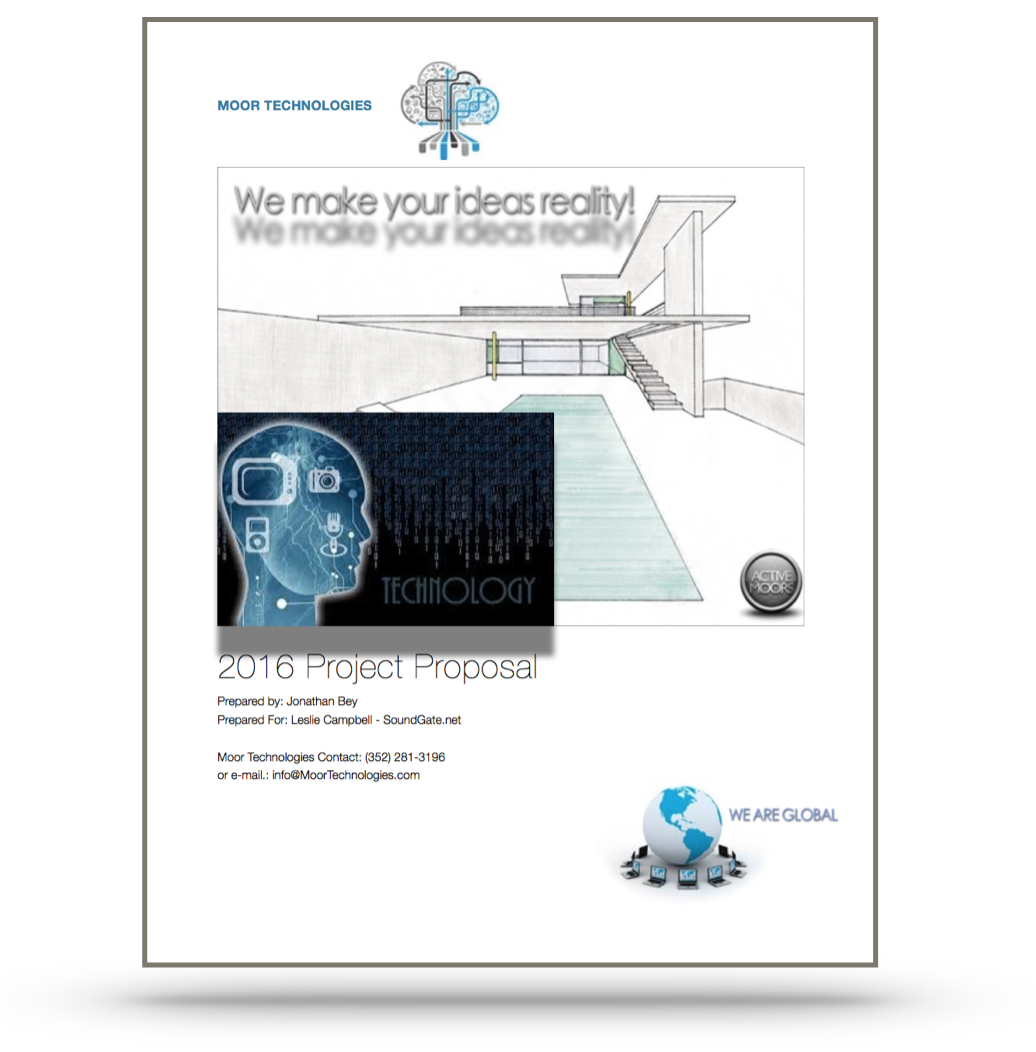 The MoorishLearning Center.com and .org have been created to provide opportunities for Students, Teachers and Moorish Entrepreneur alike.  Students, Teachers and Entrepreneurs may click the above MLC (Moorish Learning Center) graphic to download an informational brochure PDF to find out more or call (352) 281-3196 for information as to how you may take advantage of this fantastic teaching opportunity.
Please Do Feel Free To Click Here To Download The Bellow Computer Wall Paper For Your Phone or Desktop Computer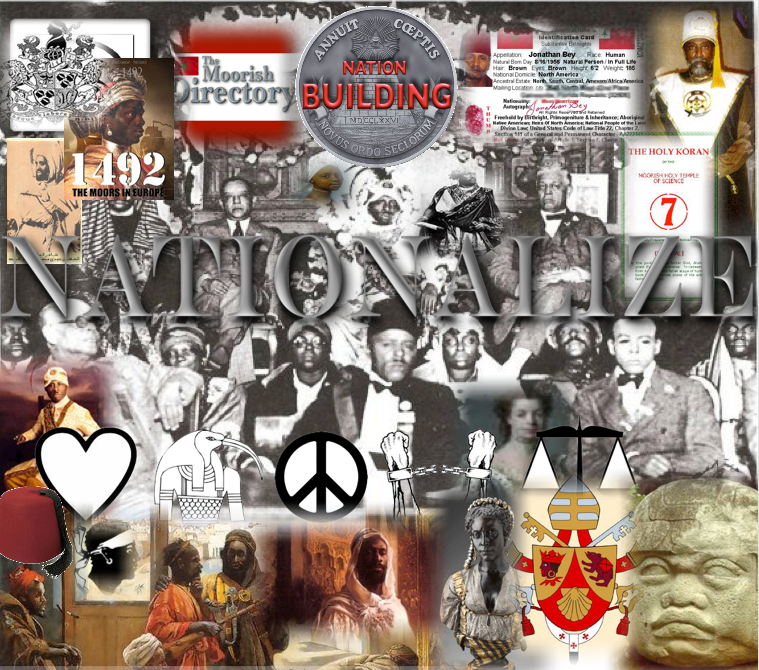 Feel Free To Download The Above Wall Paper For Your Phone or Computer
MOORISH EXPRESSION of ISLAM
Jose Piemienta Bey On Moorish Legacy
For a clear chronological view of a number of key historical events be sure to click the above HISTORY TIMELINE Link.
This Educational page is being populated with helpful features (links, patient information and loving advice) which when utilized regularly as intended will heighten one's knowledge and positive vibratory rate.  Should you have any suggestions, viagra constructive criticisms, capsule improvement or comments on any matters you feel would benefit this page, site or your fellow navigators, please do not hesitate to share your thoughts with us.
Simply click your Moorish Five Pointed Star hyperlinks to access its associated data.
RVBeyPublications.com is a truly important Cornerstone fortifying our community's matrix;  a plethora of educational and social resources for ANYONE interested in Moors/Americans.
With their being such a resent explosion in the emergence of disinformation being generated from a number of non-domestic as well foundational sources internal to our community which are in fact supposed to be THE most trusted educational resources for the uninitiated, R. B. Bey Publications provides clarification anchored in solidly established fact.
One recent critically important document produced and published on R.V. Bey Publications in fact quite succinctly clears up a great deal of intentional confusion generated by certain Fez wearing individuals who have been working diligently to fulfill the prophecy of "placing us back into slavery".  Although we highly recommend that you without fail take the time time to visit and benefit by studying the material/articles and documents publish at rvbeypublications.com, this document  Clearing Up Part & Partial / Part & Parcel has been provided here for your convenience.
The above link will connect you with one of the most trusted Moorish Publishing Companies on the Internet:

The following is an excellent example of the jewel that can be found at Califa Media; a recently published Book by G.S. Kudjo Adwo El and G.S. Rami A. Salaam El who have compiled for our benefit 77 Amazing Facts About The MOORS with clear and indispensable proof of all facts presented in this wonderful example of energy displayed.
77 Amazing Fact About The Moors
In addition to obtaining the 77 Amazing Facts About The Moors by clicking The Above Book Cover Graphic; for your benefit, please do also click THIS LINK to take of the opportunity of viewing an EXTREMELY IMPORTANT 101 Questionnaire  Video (and vital aspects of that information which should be corrected therein) from our Brothers in Canaanland.

MOORISH NATION PUBLIC RECORDS
MoorishNationPublicRecords.com is an indispensably important resource.  Taking time to visit and benefit from its amazing collection of Legal and Lawful documents worth not only reading, but downloading and analyzing in depth will afford one a powerful appreciation of the nuances, complexities, power and fine are of WORD.
The video contained on the page to which the above Holy Moorish Emporium link will show are quite instructing in that the information provide is certainly worth researching further.  The video collection contains both live and Skype commentary and instructive material from Canaanland and Lower Reagen Moors alike.

This particular link points to an outstanding lecture by Historian and Research Scholar Hakim Bey.   The video which this particular link will connect is well worth your viewing in its entirety.  Like the videos to which the previous Moorish Emporium was linked, this lecture by Hakim Bey note worthy in the real sense of the term.  In other words Take Notes.  You'll find that information imparted contains a wealth of subject matter worth even greater in-depth personal research and study, Study, STUDY!

   This first hyperlink to a 2009 Tahirah Taalib Din video interview of  Taj Tarik Bey and Sabir Bey has stood the test of time and remains to be an excellent starting point for anyone wishing well researched information on several key facts regarding Moors and America's Biggest Secret.
.